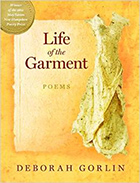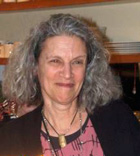 Hampshire College professor Deborah Gorlin received the 2014 May Sarton New Hampshire Poetry Prize for her poetry collection, Life of the Garment. The award honors the poet, novelist, and essayist May Sarton (1912-1995) who has long been an inspiration to Gorlin. As winner of the prize, Gorlin's book has been published by the independent press Bauhan Publishing. Her first book, Bodily Course, won the White Pine Press Poetry Prize in 1997.
Life of the Garment is arranged into three sections. The first third is comprised of elegies to the people and places in Gorlin's life that are now gone. "It's a monument of words to them," Gorlin says, describing how she wrote to commemorate her family. She wanted to do the same for the place where she grew up, an industrial suburb in New Jersey. She calls the poems about her hometown "a belated love song to an unlikely place."
The second part of the book is from the point of view of dolls from around the world. Gorlin became interested in this particular perspective when she realized how dolls can be perceived as a type of medium—not just as inanimate objects, but as "a bridge between the visible and the invisible." These poems allowed her to explore outside of her own experience and to imagine the lives of people living in different places, cultures, and time periods.
The final section of the book addresses Gorlin's spiritual struggles. "It's about the perpetual work required to summon and to engage those divine energies and mysteries in the everyday world and within myself," she says.
She describes how she enjoys "figuring and feeling things out" for herself, so that writing rarely seems like a task or an obstacle. "It only becomes difficult when I allow those awful demons—external judgment and comparisons with others—to discourage me. That's the stuff that's poison."
Gorlin says writing is not about measuring up to others, but about "the joy of difficulty in the act of writing itself"––and when you "give up the desire to compete or achieve, your work will have its own rewards." Her advice is to trust your intuition instead of trying to control where your writing goes: "In the end, there will be a poem, and it will be a discovery and a surprise."