The Princess Grace Foundation-USA was formed after the death of Princess Grace in 1982. The publicly supported organization gives scholarships, apprenticeships and fellowships to emerging artists in theater and playwriting, dance and choreography, and film. Hampshire has had a strong showing among the Princess Grace Awards film recipients in recent years. Erick Msumanje 09F received the award in 2012, Devyn Manibo 10F won in 2013, and Allison Waite 11F was awarded in September, 2014.
In 2009, Msumanje planned to use the scholarship money to make his Hampshire College Division III film, titled My Mother's Songs. The scholarship enabled him to return to his home country Tanzania to film.
"Filming in Tanzania has always been my number one goal," he said. "(The scholarship) gives me an opportunity to go back to the world I called home, where I took my first steps, where my father took me to see my first film."
He was drawing on stories from within his family for the film, working closely with his mother and aunt.
"The movie looks at intergenerational trauma from a collective colonial experience, the realization that you are left with little control over the conditions that shape your life," he said.
The Princess Grace Awards, announced August 7, 2012 continue the legacy of Princess Grace (Kelly) of Monaco, who helped emerging artists pursue their goals during her lifetime. Winners received their awards at the 30th Anniversary Princess Grace Awards Gala, held in the presence of the prince and princess of Monaco, on October 22, 2012 in New York City.
Msumanje's letter of nomination for the John H. Johnson Film Award was written by fim and video professor Baba Hillman.
Professor Hillman has been an important mentor, according to Msumanje. "She has taken time to push me critically and aesthetically," he said. "She has really helped me develop as an artist and I thank her very much for that. She did not stop believing in me and has always been patient and willing to work with me."
Hillman is equally quick to praise Msumanje's work: "Erick is continually working towards finding a deeper understanding of his own history, his family's and his country's histories. His previous films, The Devil's Houseand Journey, speak of trauma, race, and displacement in a way that is powerful and illuminating."
"Erick is a gifted actor, writer, and cinematographer, but most of all he is a storyteller of rare eloquence and maturity. I have learned a great deal from Erick and I'm grateful to have the privilege of working with him," Hillman said.
In 2013, Manibo used award funds to purchase filmmaking equipment and pay for travel to the Philippines to capture footage for her Hampshire Division III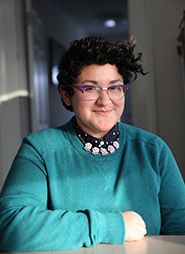 (senior) project, a video installation for the islands i've lost/ for the islands i've never known: imag(in)ing home in a queer diaspora. The three-channel installation, Manibo notes, will explore her own identity as a Filipino American from New Jersey in a magical realist, experimental narrative.
"I'm trying to create visibility for types of identities I personally identify with, queer people of color. I like to find ways to collect our voices together, and find the space to do that," said Manibo, whose Division III faculty committee wass video production professor kara lynch (co-chair), film and video production professor Jules Rosskam (co-chair), and media culture professor Susana Loza.
Hampshire alum Riko Fluchel 09F, a close friend of Manibo who shares her Filipino heritage and passion for filmmaking, accompanied Manibo to the Philippines in January 2014 thanks to the Princess Grace funds. His collaborative involvement, she notes, feels essential to the completion of her Division III work.
"We met in the Intro to Queer Theory course, and our Filipino background bonded us," says Manibo. "We lived together the next year, and explored what it means to inhabit a diasporic space and body, what it means to be queer Filipino mixed people. That became the center of what I'm doing now."
Most recently, Waite plans to use the Princess Grace Foundation scholarship money to shoot her Hampshire College Division III film in Los Angeles this fall.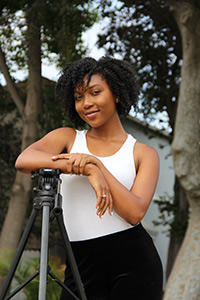 The film will concentrate on a fictional portrayal of the murder of a young African American woman and its aftermath in her surrounding community. The story of Latasha Harlins, a 15-year-old African American girl shot and killed by a storeowner in 1991, is among the inspirations for Waite's film.
"I aim to humanize the experiences of families that are involved as a result of these shootings, while also advocating for more importance to be placed on the lives of the black youth who are lost. These deaths are more than 'accidents,' " Waite says. "The wrongful death of black youth happens all the time… I hope to make a film that brings greater awareness and understanding of our grief, and our protest against these events."
Waite's letter of nomination for the Film Award was written by film and video professor Baba Hillman. Professor Hillman wrote: "Allison is a gifted filmmaker, performer, and storyteller. Her most recent work includes On Sidewalks and Chestnut Skin, a film that centers on experiences of young African American women who are struggling with issues of belonging and racial stereotyping, and Baraka, the story of a Kenyan child who has lost his father and must live on his own. Her skill as a director and cameraperson stands out in the exuberance of the imagery and the range and presence of the performances. Allison's Division III film will examine, through the experiences of three generations of women, histories of trauma, systemic oppression, healing and resilience within African American communities in South Central Los Angeles."
The Princess Grace Awards continue the legacy of Princess Grace Kelly of Monaco, who helped emerging artists pursue their goals during her lifetime. Winners  received their awards at the Princess Grace Awards Gala, held in the presence of the Prince and Princess of Monaco, on October 8, 2014 in Los Angeles.